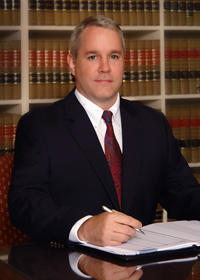 MICHAEL S. SLICK, ESQUIRE
BIOGRAPHICAL INFORMATION
Although I possess a broad familiarity with most areas of the law, my recent emphasis has been on civil trial practice. Over the past six years I have focused on civil cases involving automobile negligence, premises liability, professional malpractice, medical negligence, wrongful death, family law, and contract law. I pride myself on offering each case my undivided attention and aggressive representation.
I was admitted to the Florida Bar in 1999 and began acting as Chief Corporate Counsel for Command Medical Products, Inc., a local medical device manufacturer. In 2002 I joined the Cranshaw Law Firm and focused the majority of my time on defense work for the State of Florida and general liability defense for several insurance carriers.
I am licensed to practice before Florida county, circuit and appellate courts, and regularly engage in mediation and arbitration of civil matters. I am also admitted to practice before the Supreme Court of Florida, and the United States Court of Appeals, Eleventh Judicial Circuit.
I have performed legal services for Halifax Hospital Medical Center, Halifax Insurance Plan, Inc., First Professionals Insurance Company, Florida Family Mutual Insurance Company, Starnet Insurance Company, the State of Florida and numerous private clients throughout the area.
I take pride in the personal, hands-on service that I have always provided to my clients. Every client is treated with courtesy, respect and dedication. Clients are constantly updated as to the status of their cases and are consulted throughout the entire litigation process with regards to any major decisions or expenditures.
Education:
Florida State University (B.S. 1991)
Florida State College of Business (M.B.A., with high honors, 1997)
Florida State College of Law (J.D., with honors, 1997)
Memberships:
The Florida Bar
The American Bar Association
The Volusia County Bar Association
Practice Areas:
Civil Trial
Negligence Law
Corporate Law
Property Law
Wills & Trusts
Guardianships
Landlord/Tenant Law
Judgement/Debt Collection
Family Law